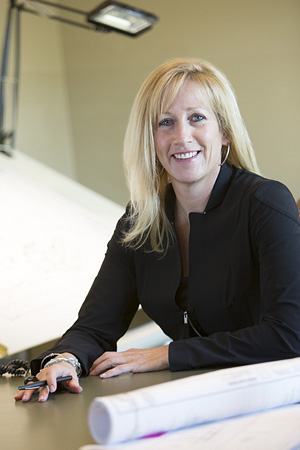 Kristi Hanson
From an age when most young teens were preoccupied with friends or dreaming of proms, Kristi Hanson was thinking about buildings. Intrigued by how structures were created, inside and out, her passion lined up perfectly with her love of drawing. A spark was ignited, putting Hanson ahead of the curve. Way ahead. 
She is both artist and architect. Right brain and left brain. With an uncanny ability to understand both conceptual ideas and structural realities, in her imagination, the two live together quite comfortably. 
Soon after graduating from North Dakota State University's School of Architecture, Hanson was headed for warmer climates where the mercury — like her budding career — ascended. For more than two decades, she has transformed clients' visions into homes they love. Architecture is both business and passion, something she deftly handles with dedication and enthusiasm. With Kristi at the helm, her staff continues to grow including her two four-legged assistants, Max and Leo.